Rhuddlan Road Roudabout
Abergele
Clwyd
Conwy
LL22 7HZ
Mon: 9am – 6pm
Tues: 9am – 6pm
Weds: 9am – 6pm
Thurs: 9am – 6pm
Fri : 9am – 6pm
Sat : 9am – 6pm
Sun/Bank Hols : 10am-4pm
About Pet Place
Our Abergele store has recently been rebranded from Farm and Pet to PetPlace. Don't worry though! You'll still see the same familiar faces and we still stock the same products at the same great prices as before. With PetPlace we have a modern new look and stock more pet supplies than ever.
Situated just off the Rhuddlan Roundabout off the A55, PetPlace is the perfect place to drop in and stock up on everything you could possibly want for your pet. Opposite the Abergele McDonalds, there's easy access and ample parking.
For any queries or if you need help finding your way to the store, you can contact petplace Abergele directly on 01745 823188.
All of our stores are pet friendly so feel free to bring your pets with you and let them choose their own treats! And for all those mucky pups, we also have our own self service dog wash.
Welcome to the Dog Park & Coffee Bar
We opened the Dog Park at Abergele to be an all-inclusive space where you and your best furry friend could come and engage with other pet parents and pups in a safe space.
We offer play sessions throughout the week for all age and size groups along with free play sessions where your dog can mix with all groups.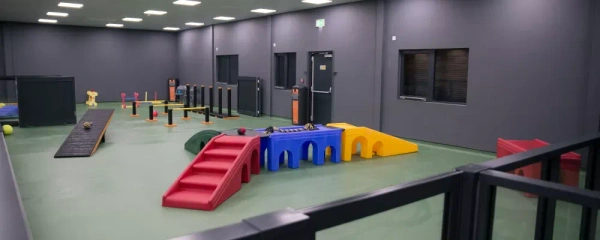 Services Available
Dog Park
Coffee bar
Self service dog wash
Horse rug wash
Click & collect
Licensed medicine
Help & advice
The information on this page is subject to change. Please call the store direct to confirm details.