Delivery Notice for Republic of Ireland and Northern Ireland
UPDATE 17/12/2020
As you will be aware, Brexit is coming into effect on January 1st, 2021 - the transition period ends on December 31st, 2020.
Following an update from DPD, we have made the difficult decision to temporarily suspend all orders being shipped to the Republic of Ireland and Northern Ireland. Unfortunately we anticipate this suspension to be in place for at least 6 months unless any dramatic changes are made to the trade agreements.
As such, we will we anticipate to be able to service orders placed up until 12:00 on Monday 21st December. Any orders placed after this date will be cancelled and refunded.
We would like to apologise for any inconvenience to our customers, we aim to work closely with DPD to get back to normal service to our ROI and Northern Ireland customers as soon as possible. In the mean-time, our stockists in ROI/NI are open as follows:
Val's Pet Supplies (Timmys Place) - 00353 863801252
The Pet Parlour - 00353 874450947- online ordering at petparlour.ie
Natural Raw Feeding - 07885 821347
Storeganics - storganics.ie
Cloud K Nine - 028 9182 8157
Danos Pet Shop - 028 7138 3216
Saturday Delivery Now Available for 24 hour Postcodes
We are excited to announce that we now deliver on a Saturday to 24 hour Postcodes at no extra cost! All orders placed after 12:00 (noon) on a Thursday and before 12:00 (noon) on a Friday will be delivered on a Saturday.
See 'Next Day Delivery' below for more information.
Next Day Delivery
On all orders placed before 12pm Monday-Friday, except where weekends and bank holidays occur*.
Please see the table below for delivery dates based on order dates and times.
*24hr Postcodes only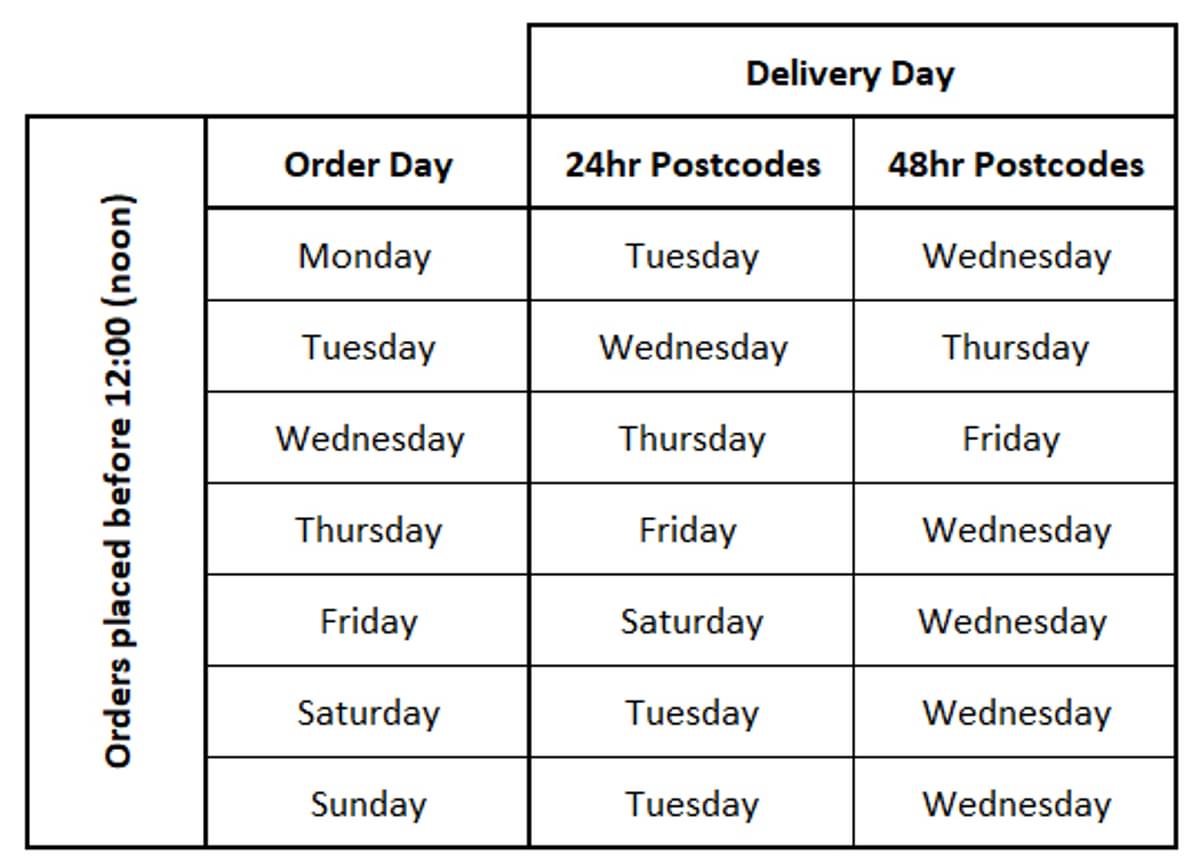 Delivery Costs


| | UK | NI and ROI | Isle of Man |
| --- | --- | --- | --- |
| 8 - 9 kg* | £6.00 to £8.00 | Min 9kg | Min 9kg |
| 9.1 - 16 kg* | £8.00 | £16.00 | £15.00 |
| 16.1 - 24 kg* | £8.50 | £16.00 | £15.00 |
| 24.1 - 48 kg* | £12.50 | £30.00 | £30.00 |
| 48.1 - 72 kg* | £17.50 | £45.00 | £45.00 |
| 72.1 - 96 kg* | £22.00 | £60.00 | £60.00 |
| 96.1 - 120 kg* | £25.00 | £75.00 | £75.00 |
| 120.1 - 144 kg* | £30.00 | £90.00 | £90.00 |
* We are charged by DPD based on the number and size of boxes that we send out via the courier. Due to the different sizes and formats of our products we have introduced a "packing weight" based on how much room that product takes up in a box. This change means that your order will always be charged the correct postage charges, but may mean that the actual weight of your basket differs from the shipping charges.
Examples of products that have a different packing weight to their actual weight:
Paleo Plus (all) – 500g packs have a packing weight of 666g
Classics (500g products only) – 500g packs have a packing weight of 666g
DIY (500g packs and bagged products) – 500g packs have a packing weight of 666g and whole items have various weights dependant on their actual size

Supplements and Non-Foods (all) – All items have a larger packing weight than actual weight
Orders placed after 12pm on Fridays will be despatched on the following Monday. (excl. Bank Holidays) for delivery to you on Tuesday.
Orders with 48 hour postcodes placed after 12pm on Wednesdays will be despatched on the following Monday for delivery to you on Wednesday.
Min order of 8kg raw food.
Bulk orders - for web order over £250 please contact us to discuss our bulk order discount.
* Please note that coupons and promo codes will not work if you are assigned to any discounted group*
48 Hour Postcodes and Excluded Postcodes
All UK postcodes apart from those listed here will be next day delivery (subject to terms and conditions)
The following postcodes are 48 hour deliveries ( two working days):
AB31-56, FK17-21, IV1-36, KW0-14, PA20-40, PH15-40, TD1-15
We are not able to ship to these postcodes or Northern Ireland, the Republic of Ireland, the Channel Islands or Scottish Islands.
HS1-9, PH41-44, PA41 -78, KW15-17, KA27-28, ZE (all), TR21-25, IV41-50, IV51, IV55, IV56
We are unable to change orders or add additional items once your order is placed. We are also unable to change delivery days. PLEASE make sure you order on the correct day for your required dispatch day.
Our Eco-friendly Packaging
We will deliver your order in eco-friendly WoolCool insulated delivery boxes for all orders.
A large WoolCool box holds 24kg. A small WoolCool box holds 8-16kg.
If you want to help us minimise our packaging please order in these volumes 16kg, 20-24kg, 36-40kg, 48kg 60-64kg
**calculations based on minced packs, whole items take up more space**
Woolcool Returns
We offer a very popular return service for the Woolcool liners. Once you have saved 12 clean and usable pieces, we can arrange free collection. On return of 12 clean and undamaged strips, we will issue £5 in loyalty points (50 points) to your account.
*Please note we cannot issue any reward if any of the returned strips are damaged, there is no name and address inside the box, or if you do not have an account with us*
To benefit from our return service:
Save 12 clean and undamaged strips
Roll them or fold them into 1 box
Put a note in the box with your name and address
email info@paleoridge.co.uk
Once you have done this, one of our team will be in touch to arrange the collection with you.
Physical Store - Basepoint, Waterlooville
Please note our shop at Basepoint, Waterlooville is currently closed to protect our customers and staff from COVID-19.
Terms & Conditions
Delivery policy and Times
Please see above for information about delivery days, times and rates. In certain circumstances orders may be delayed without prior notification. On occasions couriers may deliver your parcel at 48 hours, not 24 hours. These circumstances are out of our control therefore we do not guarantee a next day delivery service. We do not track orders so will not be able to notify you of courier delays. We will not replace or refund orders that have been rejected by the customer at 48 hours due to courier delays. Our boxes do keep everything frozen for 48 hours.
Our couriers will leave without a signature ie (garden, porch, doorstep), as the contents are perishable they should not be returned to depot, unless there is no garden, porch etc. It is your responsibility to make sure you are in to sign for your parcel if you do not have a place for it to be left, or if you do not want it left at your property. If for any reason your order is taken back to the local depot, it is your responsibility to collect the order from the depot or arrange and pay for another delivery. We will not accept liability for missing orders that have shown to be left by the GPS tracking from our couriers. If you believe your parcel has been stolen, you will need to contact your local Police to report a theft from your property. Under no circumstances are Paleo Ridge liable in any way for thefts from your property.
Paleo Ridge will not accept liability for incorrect address information. If you have entered an incorrect address or postcode, or if your address does not exist on our courier's portal and we have to manually alter it, we will not replace or refund if the couriers fail to find or deliver to your address. If you have input an order with less information than is required, The Daly Partners Ltd t/a Paleo Ridge Raw reserve the right to cancel your order without notice.
Please do not order for next day delivery if you are not able to accommodate a delay to 48 hrs.
We will not refund or replace orders where customers have notified the couriers to deliver on an alternative delivery day or to an alternative delivery address. Changes agreed with the courier once your parcel has left us are out of our control and we strictly advise against this.
We will not accept liability for missing orders that have shown to be left at your address by the GPS tracking and photos taken from our couriers. Due to the system being automated, we cannot add any delivery comments to your parcels. If you need to leave instructions, use the DPD app or leave a note on your front door. They are only carried out at the discretion of the driver. Courier drivers are only required to leave the parcel within the parameters of your property, if you are not in.