Paleo Ridge Launch New Website
10th March 2021
10 mins

read
Paleo Ridge are proud to launch their brand new website, developed by multi award-winning UK agency Mud.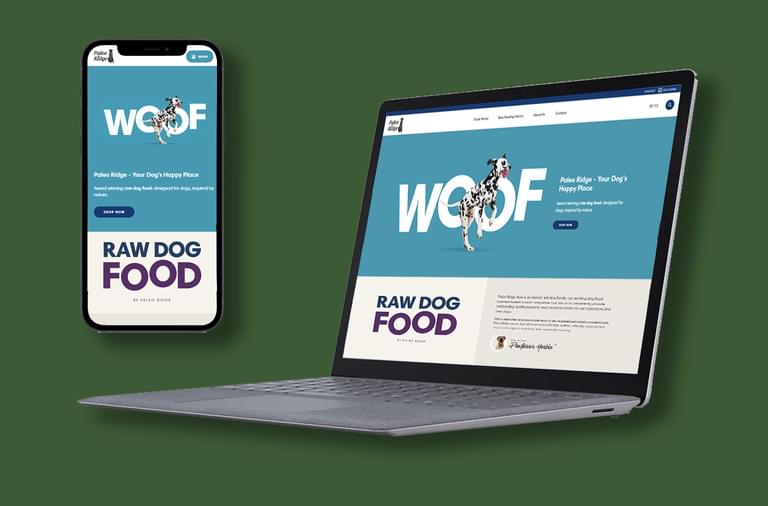 Back to News
Looking Fresh
We are delighted to announce the launch of our brand new website designed and developed by web designers Mud.
The website has been developed with raw dog food customers in mind; ensuring mobile compatibility; whilst also updating the look and feel to more accurately reflect the quality and values of the company. The new website is part of the ongoing development at Paleo Ridge that has seen the product packaging, logo and overall brand evolve over the past year.
Notable developments include:
New Branding - to more accurately reflect the quality and standards of the company and products
Raw Feeding Advice Section - a library of advice written to help dog owners safely and successfully feed raw
Product Filter - a live filter that helps dog owners find the perfect food for their pups
Advanced Product Pages - we have updated our product pages to include as much helpful information as possible
Pawfessor Herbie - our helpful assistant, shown throughout the website to help customers with his pearls of wisdom
Feefo Integration - we have integrated Feefo throughout our website, so customers can see feedback from real customers live on site
Integrated, On-Page Checkout - we have switched to Stripe payments to make checkout as easy as possible for our customers
News Library - a new filterable news library, so you can keep up to date with our latest developments
Stockists Map - a live, region-by-region map, to help customers find their nearest stockist
As well as a number of improvements to help customers to find all the information they could need to make the switch to raw dog food.

The launch of our new website signals our continued dedication to our customers' needs. The new site includes all the favourite features of the old site, with plenty of new capabilities that enhance our customer's experience. Our agency (Mud) have helped us to achieve our vision of a website that is truly customer-focussed as well as representing the quality of the company and our products.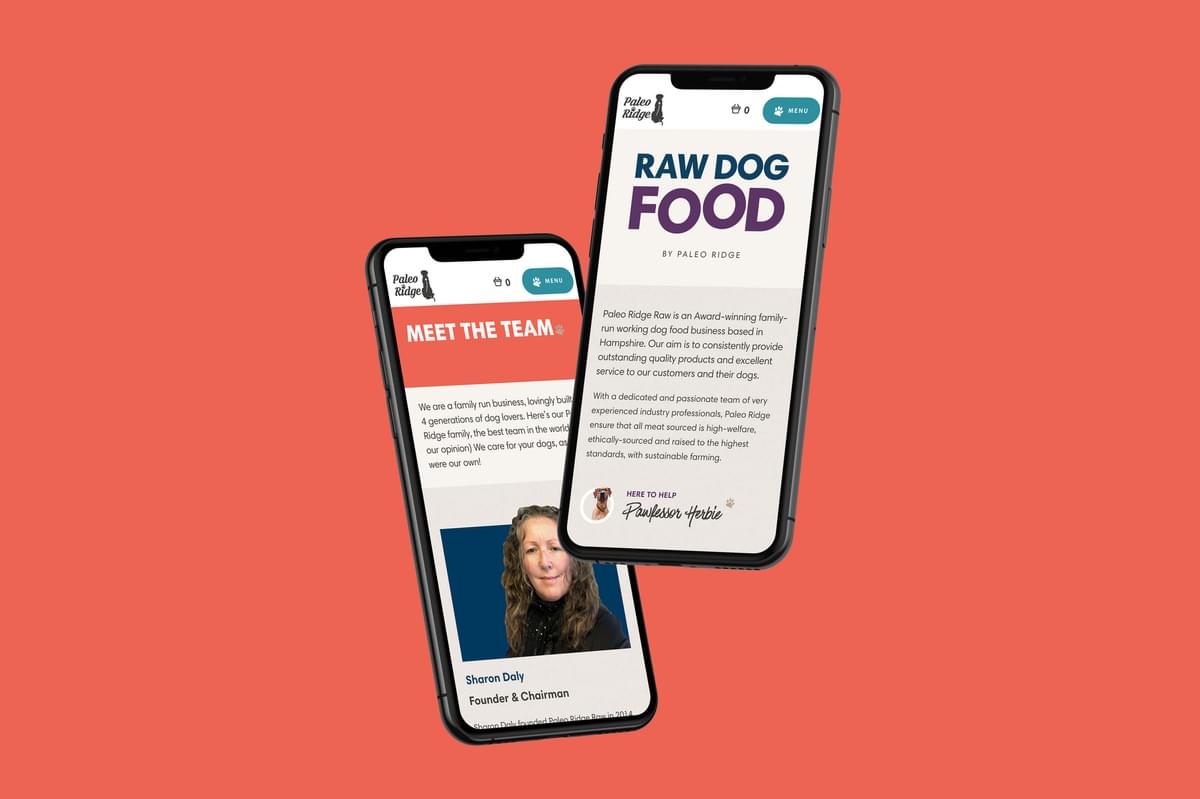 Mobile Optimised
As more and more people are researching and buying products online, one of our priorities was to ensure that our site worked seamlessly on mobile devices. To achieve this we enlisted the help of Mud, a multi-award winning web developers, based in Bath with a track record of delivering beautiful, intuitive websites that work flawlessly on mobile devices.
Working closely with Mud, we have achieved a site that helps our customers research, browse and buy raw dog food on mobile devices, with no disadvantages in comparison to a desktop computer. Customers can then fit buying dog food around their daily routine.



We are incredibly proud of our new website and have endeavoured to make sure that our customers have the best possible experience when researching and purchasing raw dog food with Paleo Ridge. Together with the team at Mud, we've worked hard to ensure that the website is easy to use and mobile optimised, to allow our customers the ability to research and purchase their dog food regularly with ease. We are confident that this new site will help our customers feed their dogs the best possible diet.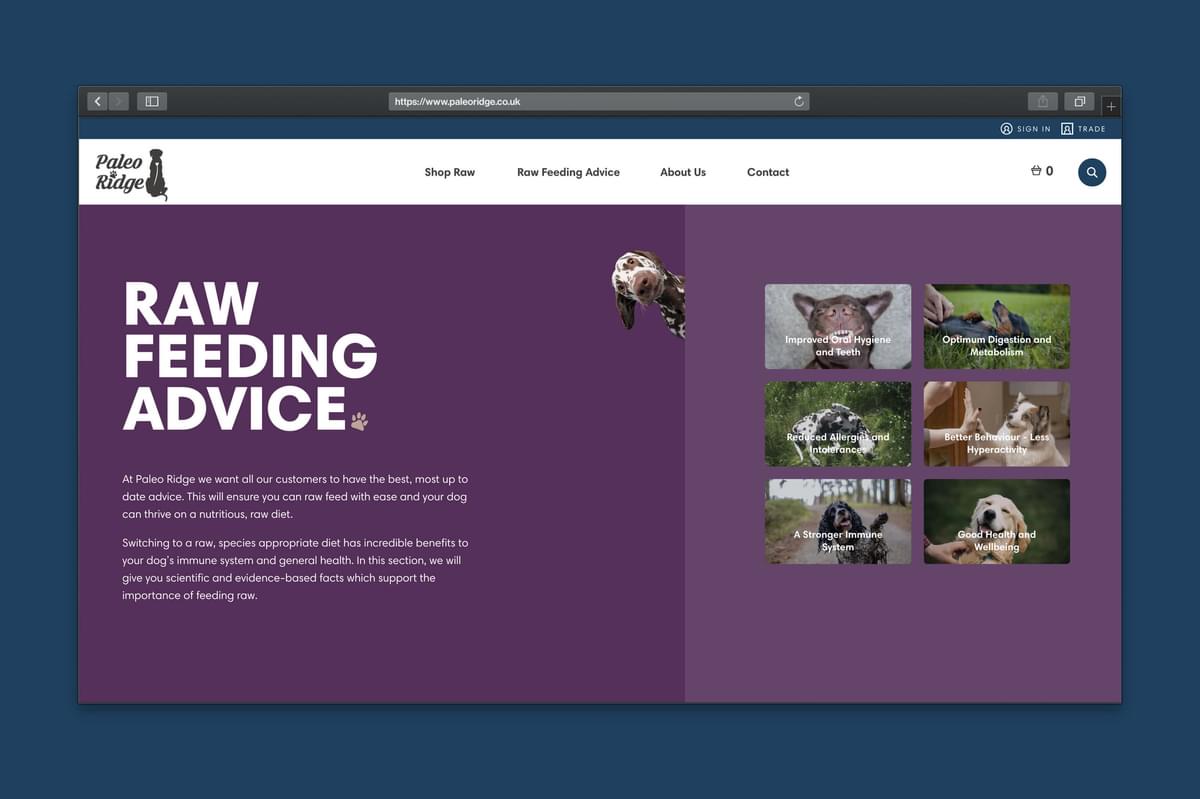 Raw Feeding Advice
One of the biggest advances has been the launch of the new Raw Feeding Advice section. This section has been developed to help communicate the benefits of raw feeding, whilst also offering the latest advice to dog owners from our in-house experts. The Raw Feeding Advice page features:
Why Feed Raw - including 6 key reasons for switching to raw dog food
FAQ's - some of the main questions we are asked by new customers
Article library - a treasure trove of articles on raw feeding, written by our in-house experts with some additional guest blogs and case studies
Our aim is to ensure new and existing customers can raw feed with ease and their dogs can thrive on a nutritious, raw diet.
Paleo Ridge are a fabulous company to work with. As a company with a really humbling origin story, and with a genuine passion for producing the best possible product for their customers, we were thrilled to be chosen to work with them on their new website.

Raw Dog Food was a market we weren't overly familiar with at the outset of the project, but the more we found out about it, the more we realised there was so much potential for the way the creative work could go. We wanted the family run, friendly face of Paleo Ridge to really shine through – they don't just produce great products, they pour their heart and soul into it. And we settled on a core idea of "Paleo Ridge – Your Dog's Happy Place".

From here we were able to develop a strong, typographically rich user interface, dotted with fun playful elements (such as the helpful "Pawfessor Herbie"), strong customer reinforcements and a simple but feature rich shopping experience. The website was built using the Craft Commerce platform, with several customised elements to integrate the website seamlessly with Paleo Ridge's back office systems.

We're really looking forward to developing the site further in the coming months, with lots of existing new features planned. All in all it's been a dreamy project to work on – with the best possible type of client – knowledgeable, collaborative, and always supportive.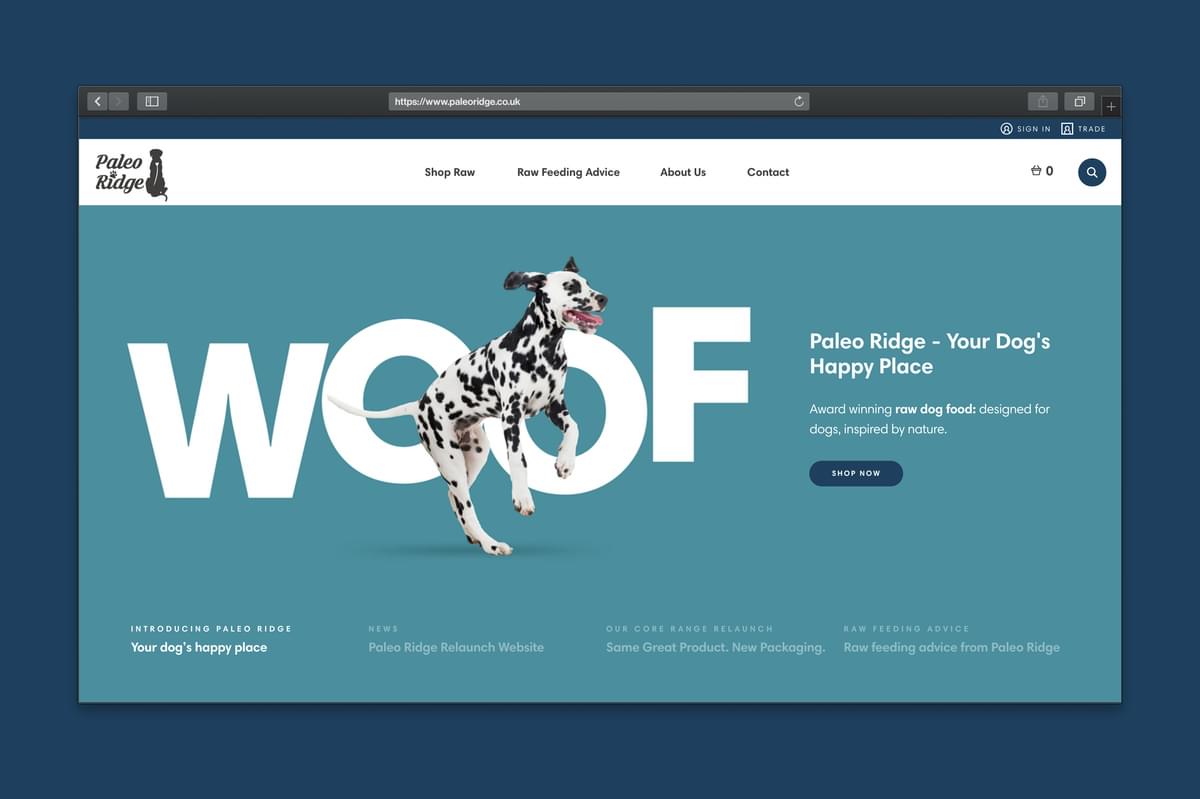 Features Our Customers Will Love
Developing the website on a new platform with a new agency has given us the opportunity to re-focus the website on our customers and their developing needs. It's a sad fact that many dogs switch to raw due to health conditions and intolerances - so to help dog owners, we have developed a product filter within our shop to help customers find products that suit their dogs preferences and needs.
In addition to the product filter, we have updated our product pages to include as much helpful information as possible. With this advancement, Paleo Ridge can proudly say that we are leading the industry in terms of transparency of product ingredients and ethical sourcing. We have also added some helpful information such as:
Key product benefits - to help understand what makes each product great for your dogs
A "short" and "full" product description - giving the option of reading a quick overview or a more in-depth description
Ingredients, nutritional analysis, delivery guide and hygiene instructions
Packaging Guide - to help customers plan freezer space and how much of each product can be stored
Feefo integration - we wear our product reviews as a badge of honour, so each page shows the Feefo star rating and the individual reviews
To ensure that the entire purchasing process is as smooth as possible we have also introduced a new, more robust payment gateway called "Stripe". Stripe is the leading payment gateway provider and is particularly well optimised for mobiles; making checking out as easy as possible for our customers.

What's Next?
The launch of this website is an important milestone for Paleo Ridge, opening up a range of opportunities for us to further develop our digital presence and offering. The new website launch is the first milestone in a development schedule that will see many further improvements, continually improving the customer experience.
The launch of the Raw Feeding Advice section signals a commitment from Paleo Ridge to provide the latest leading advice on raw feeding to raw feeders or people looking into raw feeding. We will be constantly adding new articles - including guest blogs and case studies - as well as reviewing our articles to ensure they offer cutting-edge information and advice.
We look forward to communicating further advancements over coming months... watch this space!