Guest Blog: Dr Conor Brady - "From My Cold, Dead...Oh, It's Gone."
10th March 2021
10 mins

read
In Dr Conor Brady's first column for Paleo Ridge - Conor gives us his thoughts on the latest developments in raw, including Brexit, his career, raw feeding and everything in between.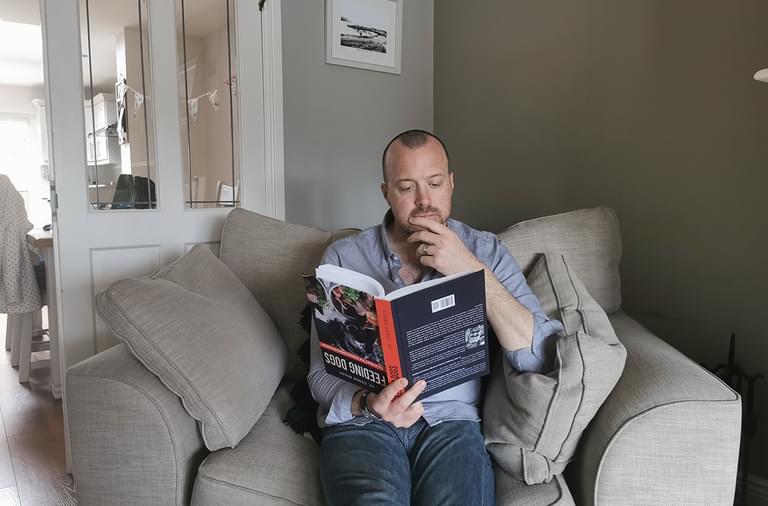 Back to News
From My Cold, Dead...Oh, It's Gone.
I am one of the most apolitical people you are going to meet. No, I think that suggests indifference. I hate politics. While I understand it's necessary and have the greatest respect for anyone trying to make their town a better place, I am deeply sceptical that the system is, in any real way whatsoever, there to serve me.
So when Tyler asked me to write a column for Paleo, giving me free reign to write anything I want, completely unrestricted - "anything at all...except politics" - I inherently knew that my first article would be about Brexit.

Hard to say why I hate politics and indeed authority-for-authorities-sake so much though it's fair to say my last ten years neck deep in pet food land have utterly eliminated in me any remaining belief that sentient and, dare-to-dream, caring adults are in charge. I just leave them at it and continue with my day. I walk my dogs. I pay my taxes and I don't listen to the radio in the morning.

Then Brexit happened. It was always going to affect each one of us differently. For those that don't know me, I'm a canine nutritionist, yes, but I'm essentially a small, Irish business. I love small business (at least as much as I dislike big business), grew up in one, in fact, but that's not the way I went initially. A scientific researcher by trade, I sought out a career in guide dogs both here and in Australia before returning home to become Ireland's first raw dog food manufacturer in 2010, a product that was made famous by a successful if slightly mortifying appearance on TV's Dragon Den (the stand-in dog didn't eat the food live on TV, pretty much the stuff of nightmares!).
Since then, I have turned whole heartedly back to research. Over the last eight years, I have written various pieces on canine nutrition and health and recently those pieces became a book. During that time, I made some money on the side doing seminars, some consultancy work (isn't Paleo Plus lovely?!), the occasional Zoom consult with troubled dog owners as well as, perhaps most importantly, developing a line of seaweed-based supplements which, I have to admit, I'm really rather fond of.
Few people know this but, while most of my small supplement business is handled by someone else, I still pack my own orders for my website. I get such a buzz from it. Every time I put a pack in the cardboard envelope I think about a happy customer. A child of the 80's, there was nothing I enjoyed more than getting to the unopened cereal box first (not an easy feat when you're the youngest of five boys) too see what little toy lay in wait for me. Today, I still get a giddy thrill when putting the free tick remover tool in with my orders (I really hate ticks), imagining the joy folk get out of opening the parcel to this little surprise bonus. My daughter has started to help me now which is choking me up as I write it. A complete hindrance mind, the child is completely obsessed with stickers. I have to print two of every label. Stamps are highly coveted and must be kept out of reach.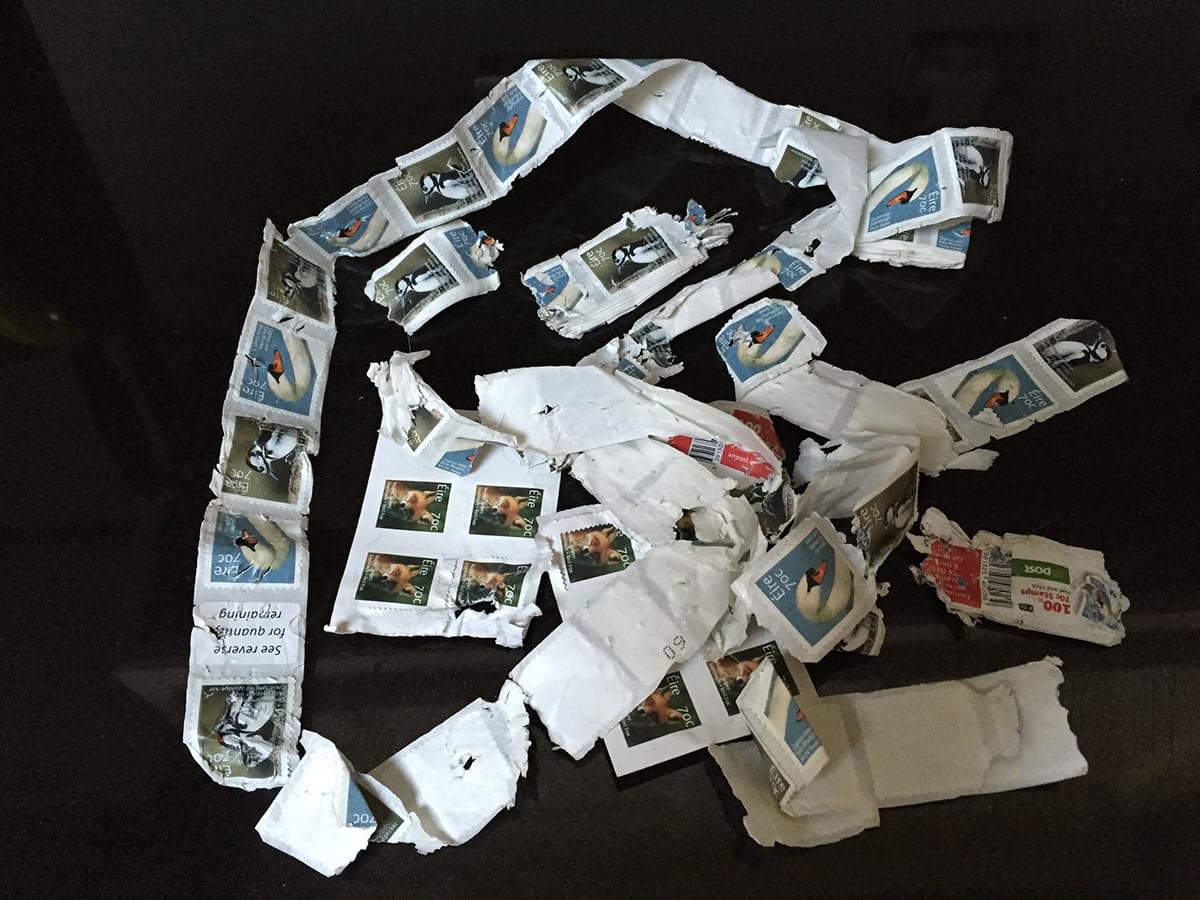 The remains of some stamps that Holly left out and Dudley then destroyed. Around £40 worth! I stuck them to his bed as a daily reminder if he does that again I'll post him far away.

So, sometimes my address labels are crooked or my re-stuck stamps require a little cellotape but it is surely this personal touch that develop in your client the emotional connection which is not only indicative but vital to the success of a small, family business.
My little supplement line is bedding down nicely. Asides being in most major pet stores in Ireland and more than a few vets, we are starting to make inroads into the UK and beyond. The future for that end of Brady Inc. was bright. Then the Brexit train pulled into the station. Well, pulling-in suggests some form of structured arrival. Until recently, for me, Brexit has been more of a slow-motion train crash happening to someone else. People weren't going to die so it was OK to just stand back and observe with morbid fascination what happens when the track ends and the train slowly nose-dives into the cold, grey, apparently snotty pile of EU bureaucratic gravel.
Then the issues start to leak into my world. Customs delays first. Orders in and out stuck at some invisible border for reasons unspecified, some disappearing into the Br-ether, never to return. Now a variety of TAX implications that seemingly nobody understands or can help me with. UK companies we once bought bits from no longer have supply or their import/export costs render them cost prohibitive. My guy had to re-route our EU-sourced organic herbs away from UK and through France, or something like that. Even my online-order-packing joy has been removed as I now must take my UK orders (the majority) down to the post office daily where I must wait ages for the woman there to fill out an export form for each and every package. That bit is pure hell and it's helped in no small part by the fact she always says "yeah" instead of hello.
Mind, this is all stuff being suffered by every small business both sides of the pond, in fairness. What I hadn't anticipated was the interruption to my supply of dog food. Last month the news broke that Paleo Ridge would no longer be shipping to the island of Ireland, at least for the foreseeable. Insane EU demands for microbiological checks of each and every batch reduced the desire to export to nil. It is now more straight-forward to sell raw dog food to the United Arab Emirates, and that's a fact.
This is no small dent in the finances of such a company and as a small business owner I honestly feel for any company who's main income was selling between our countries. There is no upside to that loss of sale, only the lingering hope that it will someday return, relatively unimpeded.
But, perhaps more importantly, what am I supposed to do now?!
Every day of the week I get asked what raw dog food I recommend. Each time I answer, following years on the inside of the raw dog food and meat industry, the very best you can do is to make it yourself on meat from your local butchers. This way you know exactly what your money is buying. You can better ensure the quality of the animal (both life and death), you reduce air miles and, perhaps most importantly, you keep the money in your community. On the pet food scale of 1 to 10, that's 10.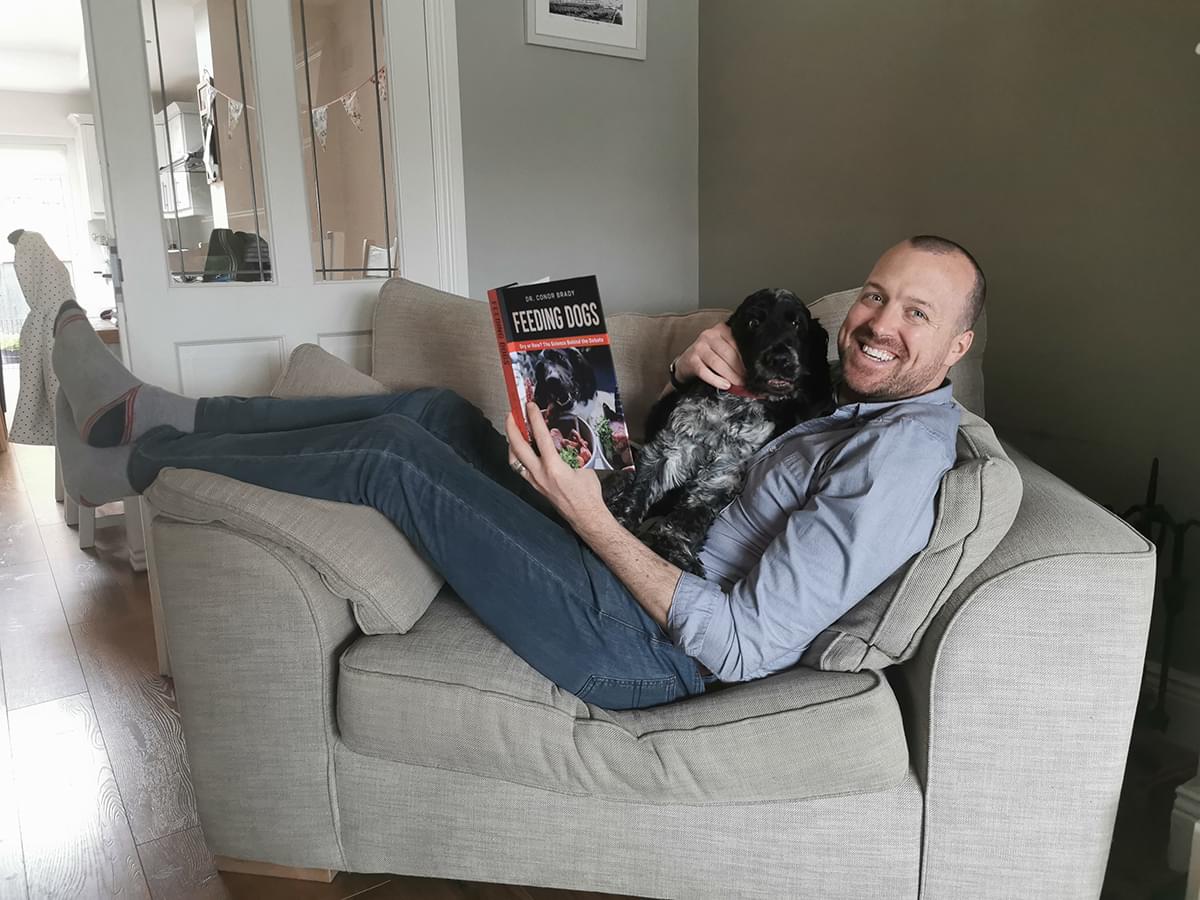 However, I estimate less than 1-in-4 folk actually make their own raw dog food each month. The rest are looking for the best pre-made raw they can source. I occupy both these worlds on Dudley's behalf. Absolutely I make my own food now and then but it's always good to have the pre-mades there too for those days when, quite frankly, you're not arsed. I'm more than happy to lean on good pre-mades for his base, throwing random bits on top when and where I find them, usually best-before-not-bad-after meats I find locally (anything you save from the reduce-priced aisle prevents the criminal waste of meat).
The problem is, as a veggie passionate about animal welfare, I'm hamstrung with what I can source over here. Ireland has a positively dire supply of more-ethical and organically-reared meat. While it does exist it's bloody hard to find, require a journey and time. And I rarely can get the bits I want. That's just one of the reasons I use Paleo Plus (other reasons being I know the single protein mixes are actually meaty, have some nice tail-end ingredients, are in compostable packaging and Tyler is a CEO I know and trust). Works for me anyway.
I say used to as now, thanks to Brexit, I can't have it. Feelings of the system-against-Conor thoroughly reinforced.
So, I'm left making up my own mixes once again, practicing what I preach full time, which is awful. At night you can find me prowling the meat aisles of supermarkets, looking for yellow stickers. The checkout is a reliable nightmare. I have two choices. Either I carefully avoid the eyes of the person at the checkout or, if forced to engage, will mutter something about feeding my dog. The latter brings up "the look", you know, the one us raw-feeders are given by ill-informed vets, as if my kids were eating it. I then hurry out, stuffing it into my car, furious at the plastic packaging that will await me at the end.
One of the only plus sides is it has gotten me back in the mood of DIY. So, if you're into it, please join me next time where we will chat about some feeding tips and tricks for your dogs (and not one more word about politics).