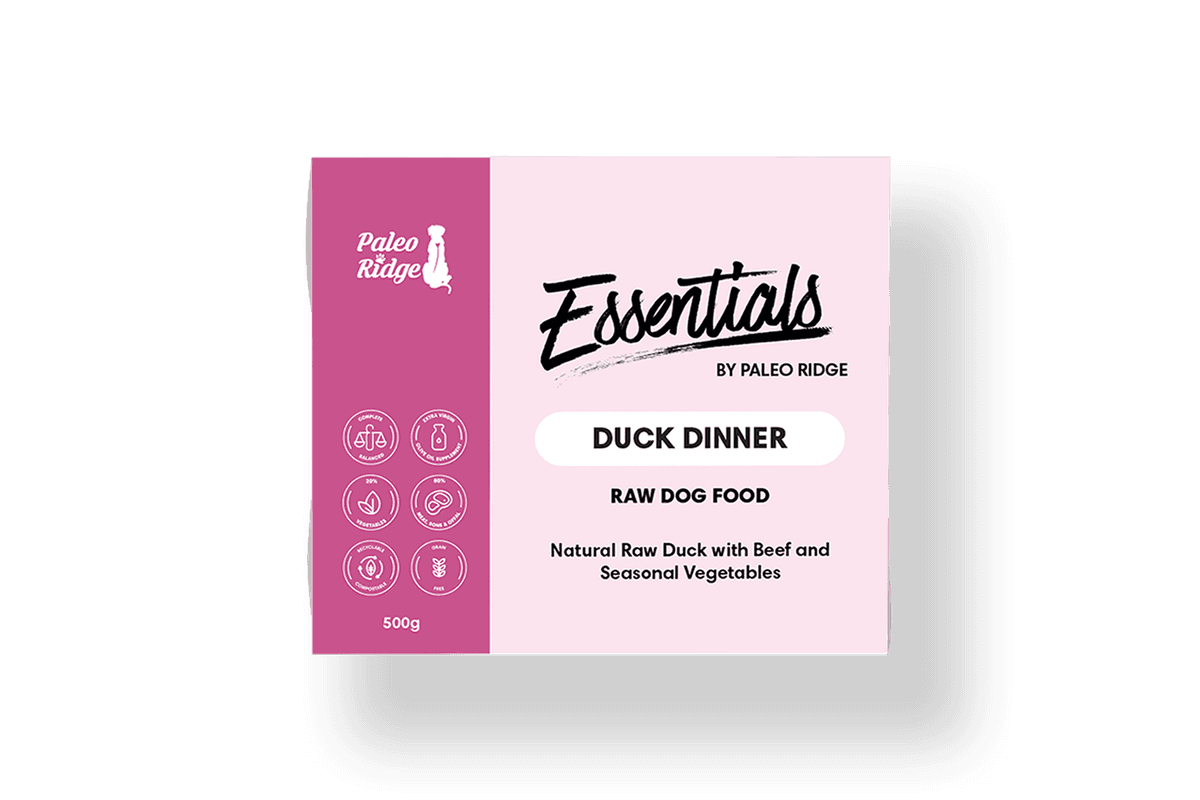 Essentials Duck Dinner (500g)
£2.19
Description
Essentials Duck Dinner is a grain-free, complete and balanced meal supplemented with seasonal vegetables and extra virgin olive oil. Suitable for all life stages including puppies and seniors, this product offers all the benefits of raw feeding, whilst offering the best value for their owners.
Key Benefits
Grain free

Suitable for Puppies

Suitable for Seniors

Recyclable Packaging
Our Essentials Duck Dinner is a chunky, complete and balanced meal consisting of 80% high-welfare meat bone and offal and 20% seasonal vegetables.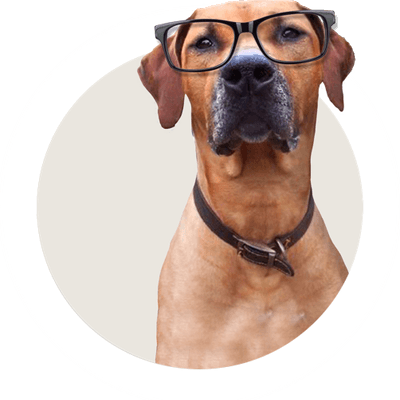 | | |
| --- | --- |
| | Per 100g as fed |
| Kcal | 177 |
| Moisture | 73 |
| Protein | 12 |
| Fat | 14 |
| Fibre | 0.5 |
| Ash | 1.76 |
| Calcium | 0.43 |
| Phosphorous | 0.36 |
Essentials Duck Dinner (500g)
Essentials Duck Dinner is a chunky, complete and balanced meal consisting of 80% high-welfare meat bone and offal and 20% seasonal vegetables. As with all Paleo Ridge products, Essentials are minced into a chunky consistency for your convenience and packaged in compostable and recyclable packs.
Responsibly Sourced Raw Dog Food
The duck and beef used in this product come from animals which are free to roam and raised in high-welfare conditions. The vegetables have been selected from sustainable and ethical sources.
A Natural and Balanced Diet for Your Dog
Essentials Duck Dinner provides a splendid mix of meat, bone, offal and vegetables to maintain a healthy and balanced diet.
Raw duck is packed full of a whole range of various vitamins and minerals which provide excellent health benefits for your dog. This includes a rich source of B Vitamins including B1, B2, B3, B5, B9 and B12 which are essential for promoting cell growth and necessary for metabolising proteins. Duck also provides a great source of Omega 3 and Omega 6
Beef offal is an excellent source of amino acids, iron, zinc, vitamin A and D too. The additional extra virgin olive oil supplement will support a healthy coat and skin due to its generous Vitamin E content.
Keeping Your Dog Happy and Healthy
This minced recipe is complete to FEDIAF standards and will help support your dog in many ways with the bioavailability of essential nutrients contained in this meal:
Healthy skin and coat
Oral hygiene
Reduced allergies
A strong healthy immune system
Essentials Duck Dinner is grain-free with no additives, making this a hypoallergenic product.
Product Packaging
Measurements: (Top) 125 x 118 x 64mm (Bottom) 110 x 90 x 64mm
All our product packaging is either compostable, biodegradable or recyclable (excludes some bagged items).
Delivery Box
A large Woolcool box holds up to 24kg. A small Woolcool box holds 8-16kg.
If you want to help us minimise our packaging please order in these volumes; 16kg, 20-24kg, 36-40kg, 48kg 60-64kg
For more details on our packaging, please see our Packaging Information page.
DPD Next day delivery - Nationwide
On all orders placed before 12pm Monday – Friday for orders in 24 hr postcodes.
Orders placed after 12pm will be despatched the following day. Except Saturdays and bank holidays.
More delivery details, including postcode groups and prices on our Delivery page.
Minimum order - 4kgs to ensure our goods remain frozen in transit.