Hermiston Gait Retail Park
Cutlins Road
Edinburgh
EH11 4DF
Mon-Fri: 9am - 8pm
Sat: 9am - 6pm
Sun: 10am - 6pm
About Jollyes Edinburgh
Come and say hello to our friendly team at Jollyes pet shop in Edinburgh, where we're open 7 days a week with shelves stuffed full of high-quality pet food, treats, toys, bedding, and more. We're here to show the people and pets of Edinburgh why we're the Pet People.
If you're looking for something specific or you're not sure what you're looking for at all, a friendly member of our team will gladly help you find the right product for your pet. This includes not only our own favourite brands - as pet lovers, we know what we're talking about - but also helping you find specialist products or items for animals with different needs, like allergies, unique fur care, or products suited to senior animals.
If you need a hand with your bags when leaving the store with your shopping, please don't hesitate to ask us to lend a hand. As part of our free carry to car service, we can aid you in transporting your new pet goods to your boot, so you needn't struggle out of the store when you visit us.
If you prefer to shop online and pick up in store, that's no problem at all. Use our handy click and collect service to place and pay for your order on our website and pick up from your local store within as little as 1 hour of ordering. We offer a website price match guarantee, meaning you'll find the same great prices online and in store, so however you choose to shop with us you know you'll be getting our best price.
Visit Jollyes pet store in Edinburgh to pick up your next pet too, because we sell live animals like rabbits, hamsters, and guinea pigs here too! Swing by our pet superstore today.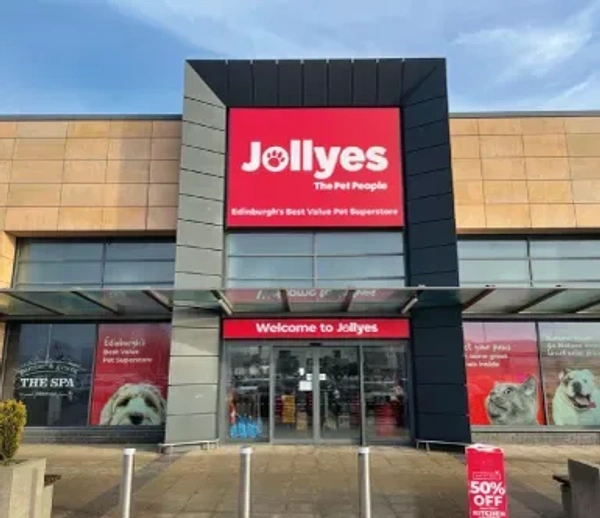 Services Available
Raw Store
Bring your pet
Carry to car
Click & Collect
Expert advice
Free parking
Pet medication
Price match
The information on this page is subject to change. Please call the store direct to confirm details.